In 2016, STEM Sports® was derived and born from efforts that produced the first-of-its kind STEM BMX curriculum program for USA BMX, the world's largest BMX racing organization. Developed by the Huddle Up Group, led by owner Jon Schmieder, the STEM BMX program created successful new methods of STEM education to improve STEM literacy for elementary and middle school aged students throughout the United States.
Soon thereafter, STEM Sports® developed STEM Volleyball, which was then followed by STEM Basketball. In 2017, STEM Sports® brought on Agency G, owned by Jeff Golner, as the agency of record to develop the marketing-to-sales strategy. Those efforts soon led to Golner acquiring STEM Sports® in its entirety. At approximately the same time, STEM Sports® launched STEM Football, STEM Soccer and STEM Multi-Sport turnkey supplemental curriculum kits. In late 2018, STEM Sports was granted the trademark registration for the logo and brand name STEM Sports by the United States Patent and Trademark Office.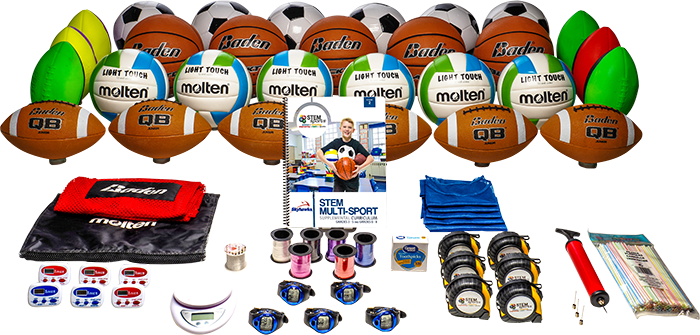 In 2020, new curricula will be introduced to the market, such as STEM Baseball, STEM Golf, STEM Hockey, STEM Lacrosse, STEM Softball STEM Tennis and a STEM Multi-Sport supplemental curriculum geared for K-2 students.
Since inception in 2016, STEM Sports® has grown considerably with its curriculum being implemented in schools, after-school programs and camps across the United States. Our growth can be attributed to the ever-growing need for engaging and appealing STEM curriculum and STEM activities so that young students can see potential careers earlier in the educational path. Additionally, STEM Sports® is partnering and collaborating with entities that align with its mission and vision, such as STEMfinity, STEM Supplies and S&S Worldwide. Furthermore, the interest in STEM Sports® products has attracted the attention of international entities and their educational systems.
STEM Sports® will continue to drive the importance of supporting young students throughout his/her academic journey by providing a product and service that is both educational and enjoyable as well as implementable-with-ease for everyone in the education space.
Head over to our curriculum page and learn more about our next-generation STEM Sports® curricula!
"When a real-life application can be made for students, the learning process becomes more engaging with better and more successful outcomes. Sports is our real-life application."
- Jeff Golner, CEO/President
Are you ready to learn more about STEM Sports®?