Covering science, technology, engineering, and math, STEM Sports provides a hands-on learning method using physical activities to inspire students to progress at their own pace. Whether your child is an athlete or an academic, the opportunities to innovate are endless with the STEM All-Star Kit!
Introduce kids ages 8-14 to the science behind sports they already love with our standards-based supplemental curriculum that aligns with most schools. With STEM Sports, you'll have the activities and resources you need to ensure a successful homeschooling journey. 
Customize the perfect box and we'll ship you the entire year's worth of materials in one box to start tackling right away. The All-Star Kit includes basketball, football, soccer and volleyball equipment and supplies, plus 9 STEM lesson manuals all for just $249.99.
Kickoff your child's STEM journey by exploring a multitude of sports equipment, STEM supplies, lessons, and exciting bonus items. 
Learn everything from receiver glove technology to how gravity affects the game of basketball with hands-on activities. 
Best of all, in between sports, kids can stay active with Skyhawks by discovering fun lessons about strength training, developing speed, and so much more! 
Choosing the best homeschooling curriculum is important, so choose the curriculum that is best fit for you and your student. 
Parents, Relatives, and Teachers love STEM Sports®
Trusted by over 400 school districts across the U.S.
Shop individual boxes from the STEM Sports store.
Explore projects and gifts for kids ages 8-14 – no subscription needed!
Help Your Kids Stay Active
STEM Sports® has grown considerably with its curriculum being implemented in schools, after-school programs and camps across the United States. Our growth can be attributed to the ever-growing need for engaging and appealing STEM curriculum and STEM activities so that children can see potential careers earlier in their development.
STEM Sports® will continue to drive the importance of supporting children by providing a product and service that is both educational and enjoyable.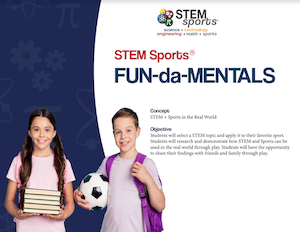 Error: Contact form not found.