We deliver standards-aligned modules using Basketball, Football, Golf, Soccer, Volleyball and BMX and others as the real-life application to drive STEM-based, hands-on learning in classrooms, after-school programs, and camps around the U.S. and in international markets.
Content for a minimum of 16 hours of instruction that includes some healthy, physical activity.
Each curriculum has eight lessons aligned with the Next Generation Science Standards (NGSS) and/or Common Core State Standards (CCSS) and/or National Standard for K-12 Physical Education.
Differentiation: lessons for K-2, 3-5, & 6-8 grade students.

"Capstone" Project (6th to 8th) to commensurate student's knowledge of each curriculum.

Ready-to-use worksheets that align with each lesson and standards
Turnkey kits come equipped with all of the relevant sports equipment along with the necessary science supplies.
Through our 5E lesson plans, students will develop 21st-century skills such as critical thinking, collaboration, creative problem-solving, and leadership.
Assessments in each lesson to effectively evaluate students.
Each module has a list of STEM-based, sports-related jobs pertinent to the lesson concept.
Well designed and scalable for teachers, administrators, or volunteers.
Who We Are
Our STEM Sports® team is committed to the educational enrichment of our youth. Through creative and strategic education and the fun of sports, students are engaged on entirely new levels and we cultivate participant's STEM literacy, engagement, and retention.
Our Mission
STEM Sports® is dedicated to combining scientific learning and sports to help students develop critical thinking, collaboration, and creative problem-solving skills that can be applied throughout their lives and be applied not only to future occupations and jobs but for real-life everyday situations.
Our Delivery
We create turnkey STEM programs rooted in sports, including but not limited to BMX, basketball, football, golf, soccer, and volleyball. STEM Sports® has been implemented in over 400 school districts nationwide to thousands of K-8 students. Our curriculum is in 49 states and is also offered internationally.
The Numbers in STEM Education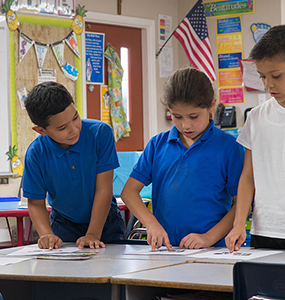 Of the 20 fastest-growing careers, 15 of them require a background in math or science
Out of 100 STEM jobs, 93 percent of them pay above the national average
What Our Great Customers Have To Say
"STEM Sports Curriculum is fun and easy to use. The students make connections between sports and academics with a high level of engagement. The teachers are confident that using the STEM Sports curriculum is valuable as all activities are connected to standards."
Alicia Majercin, Pueblo Elementary School
STEM Sports® uses sports for real-world application, strengthens 21st Century skills, and integrates the Engineering Design Process with its curriculum. This STEM.org Accredited™ Educational Experience accomplishment will serve as an inspiration to others who aspire to be the best and reaffirms your ability to captivate those who value STEM in their communities.
Andrew Raupp, founder and executive director of STEM.org
I love the design of the entire STEM Multi-Sport K-2 curriculum and the instructions are incredibly detailed which would allow almost anyone to pick up the curriculum and use it. Amazing! I also think having the option in some modules to have two shorter sessions or one longer session is a great idea, because depending on the class and the day it could all be up in the air. Lastly, integrating STEM with physical activity is such a great idea and will have a meaningful impact on so many young students.
Julie Fine, Kindergarten teacher
My students had the opportunity to participate in the Soccer STEM program. I have spent two years with most of these students and this experience was the first time I have seen them truly invested and engaged in the learning process. My classroom became student centered, where they were controlling the discussions, and inquiry that followed the modules, not me.
Haley Mercy, Mesquite Junior High School
Are you ready to learn more about STEM Sports®?