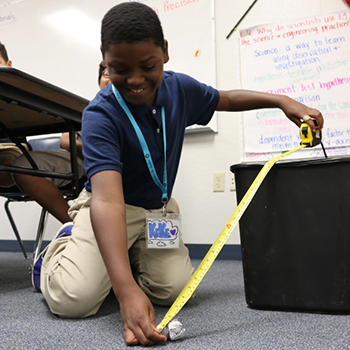 At STEM Sports®, we believe that every student deserves the opportunity to receive quality education. In this technology driven world, STEM jobs are increasing in both size and pay, making science, technology, engineering and math education more important than ever. In the next decade, 80 percent of all professions with require some STEM skills.
Playing with Precision is a new, FREE supplemental curriculum. With minimal supplies and set up, the activity is easy to implement in both classrooms and after-school programs. It is aligned with the Next Generation Science Standards (NGSS) and/or Common Core State Standards (CCSS), just like our other STEM kits.
When you give a child a ball, what is their first instinct? They want to throw it as far and hard as possible. Children rarely take into consideration precision, energy transfer or accuracy. During this hands-on lesson, they will learn about all three of these concepts while also learning about the Engineering Design Process (EDP) through trial and error.
Despite age and skill level, there is a Playing with Precision lesson for every student. STEM Sports® has created 2 curricula, one for 3-5 students and another for 6-8. This was done in order to insure student success. Although both lessons teach the same core concepts, they were both designed to present the material in a way most effective for each age range.
If you are interested in receiving a Playing with Precision lesson, click this link and fill out the request form. Let the (educational) fun and games begin!