It started with a free STEM Sports® lesson sample request in 2019. Soon after, F. K. White Middle School would begin an enrichment effort that brought the world of sports together with STEM. While this was a new challenge for the Louisiana-based school's eager students, little did they know what other tests awaited them.
First was Hurricane Laura, which touched down on August 20, 2020, in the middle of the global pandemic. There were mandatory evacuations, families uprooted from their homes, and mass destruction brought on by the Category 4 storm strength. A mere six weeks later, Hurricane Delta arrived, delivering another blow to a decimated but strong community. Tarps and debris used post-Laura, along with more homes and businesses, were now victims of Delta. The people of Lake Charles knew about trials and tribulations, but this had to be enough.
Soon after the new year, on February 20, 2021, the 'big freeze' hit the area, causing a new level of destruction. When temperatures dropped to 14 degrees Fahrenheit, the city's power supply shut off, pipes in homes burst, and all residents were left cold and in the dark. Utilities were down, and the area even experienced thundersnow. This new weather-related protest damaged the schools in the Calcasieu Parish School District. While temporary repairs were made after Hurricane Laura and Delta, schools remained closed, first by covid-19 and now by the storms.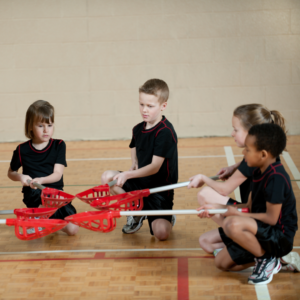 And if that wasn't enough, next came the 'big flood' on May 17, 2021. Some 18 inches of rain poured over six hours causing a massive flash flood. Students had difficulty getting home safely. It was another major disaster.
Teacher Sandra Hayes, equipped with a Health and Human Performance master's degree, teaches STEM Sports curricula to her 6th, 7th, and 8th-grade students. When we spoke with her, she first mentioned how she instills her students to "think about the future." We were so impressed with her energy and enthusiasm, knowing that the past two years have been difficult for everyone in the region, students included. She informed us that her students are exceptional and how excited she gets each day when she climbs into her car and drives to school. This, also knowing that some teachers are still displaced from their own homes and living in campers. Sandra cited that she implores her students to think about jobs and careers now. She was quick to point out that many of her students believe they'll go on to be professional athletes. She doesn't dissuade this thought or idea. Instead, she implores that "athletics are more than athletes". That her students could build stadiums, be the team accountant, or work in food services. The sky is the limit. Sandra pointed out how our curriculum speaks to her students and how they learn about the different jobs tied to our lesson's objectives. She was grateful.
So what's next for Lake Charles' F. K. Middle School, and what new challenges are they seeking? "Lacrosse is new to all of our students, so your STEM Lacrosse program is wonderful, and the students are so into it!" Like the students of Lake Charles needed another test, all of us at STEM Sports do not doubt that they will advance with success to achieve all of their goals!