Mindfulness Matters
Can STEM and Sports principles be applied simultaneously in the workplace or as a foundational application for educators and students? The STEM Sports®️ curriculum was developed with this vision and purpose in mind: Educate and prepare students with a methodological approach of quality and rigor through hands-on, exploratory learning tactics.
The STEM Sports®️ team believed it was essential to preface for educators, students, and families "Why we do what we do?" during the development of our newest curricula, such as the science behind basketball and how and where it may come into play in a student's future. For this reason, our curriculum pinpoints and articulates exactly why "Mindfulness Matters" to energize and motivate our educators and students.
A Solid Foundation
It's not impractical to think a child ages 5 – 8 is unable to apply STEM concepts to basketball and/or view the game through a scientific or engineering lens. We believe it's not only practical, but deliver a curriculum that introduces and prepares K-2 students for the world of STEM, including the science and engineering behind basketball. The below provides a pedagogic window into our approach of practicum that is real-world and stimulating: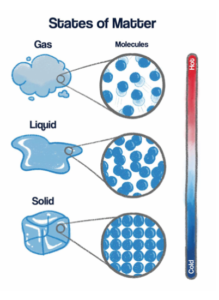 Lesson:

Basketball Matters

Objective:

Students will make observations about color, texture, ability to stretch, and state of matter of materials by recording information in a data table. Students will explain there is air inside the ball by comparing an empty ball and an inflated ball. Students will explain why balls behave differently by using observations about the solids and gasses that make up the balls.

Concept:

Science: States of Matter and Observation

Standards:

NGSS: Observe and Analyze 
Lesson:

Design a Shoes (basketball)

Objective:

Students will study the advancements in shoe design for the first basketball shoe to today's basketball shoes. Students will make detailed observations by using their senses and measurements to make inferences about changes in technology. Students will design their shoes using the Engineering Design Process.

Concept:

Engineering Design Process (EDP) / Science: Observation / Use of Technology

Standards: NGSS: Observe, Analyze, Plan and Carry out an Investigation
The methodology behind our approach is simple: Reach and tap the potential of each student who aspires to be a professional basketball player yet would love to be the mastermind behind the EDP of the newest NBA basketball unit.
Career Aspirations
Why do we do what we do? Yet more importantly from a student's perspective: "Why am I here?". Each of the STEM Sports®️ lessons outline five STEM Jobs in Sports in alignment with the lesson's concepts, objectives, and standards, including our Capstone project for 6-8 students to engage and explore careers in STEM and Sports as part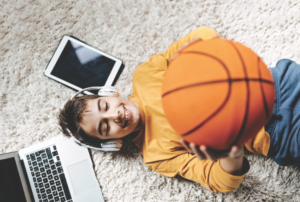 of the STEM Basketball curriculum.

As alluded to earlier, our purpose is to aspire students by discovering the engineer, physicists, or stadium architect in each of them. Or maybe it's the student turned athlete who attains a career as a high school basketball coach while teaching physics. Either way, they have solidified a career that answers the questions: "Why do we do what we do?" and "Why am I here?".
Historical Context
Basketball is a high energy game that involves immense athletic skill. It is a sport that requires arguably the highest concentration of both athleticism and hand-eye coordination. So, understanding the game from both a physical and mental discipline is essential to success.
On the surface, whether watching a game at an NBA arena or the playground, it seems simple: pass, dribble, run, jump, and shoot. However, each of these practices is a principle of science; specifically, the science of physics, math, and the law of motion. Because of these factors, the game and its equipment has transformed over time.
When the game was invented in 1890, there were only 13 rules. To-date, there are over 100 rules. Significant changes during this time have included: soccer-ball-to-basketball or use of a ball that bounces and easy to control; the number of players on-court; court boundaries; dribbling (versus not dribbling); the elimination of the center jump after a made basket; 3-point line; and no dunking for a period of time.
The soccer-to-basketball change was immediate, and the science behind it makes sense. Particularly, adding bumps to a smooth-surfaced ball to induce friction; subsequently, slowing the ball down and/or creating a ball ideal for players to grip. Moreover, a player can effectively handle the ball without fear of losing control whether passing or shooting to the intended target. 
The changes around the number of players on-court, center-jump after a made basket, and induction of the 3-point line were certainly momentous factors. Factors to produce continuity between the competing players/teams in a concentrated space. In the end, the results have yielded a game enjoyable to players and spectators.
Advancements
Today's equipment and apparel is light-years removed from the game's inventor and the original game plan. Players want to maximize their ability to get-off-the-floor and be quick (lateral and unilateral) yet remain comfortable and protected during play. Consequently, the technological advances to shoes, socks, shorts, shirts/uniforms have been immense over the last three decades. Advances with the premise to not only regulate a player's movement and temperature but monitor a player's heart rate and brain activity so coaches can effectively assess "internal and external" factors affecting players throughout the course of the game.
A piece of technology that has enhanced the game for players and coaches are applications to record, view, and assess. Using a device such as a smartphone or tablet, a coach or player can track and chart shots during an individual's workout. One of the most popular applications on the market today is HomeCourt, an application utilized and referenced in the STEM Sports Basketball Curriculum – Module 7.1 – "Shot Tracking with Technology". It is a productive tool to observe and reflect a player's progression and/or areas in which he/she needs to advance their game.  
The HomeCourt application is just one of many, many examples of technological advancements in the game of basketball, however, it is a tool that uniquely encompasses each component of STEM, and is effectively utilized as part of the STEM Sports®️ Basketball Curriculum. These examples include the following:
[S]cience: an application/tool that provides systematic and structural analysis, encompassed and supported by aspects of the Technological, Engineering, and Mathematical world

[T]echnology: an application that can capture not only a statistical breakdown, which includes hot and cold points via percentage on the court, but records players so he/she may review their shooting mechanics as well as other finepoints that need work

[E]ngineering: the ability to design and construct a virtual application of this capacity is remarkable, requiring a distinct and solid skill set from a Software Engineer

[M]ath: statistics are an essential part of all sports — especially basketball. This application (photos below) will track Field Goals, Free Throws, 3-PT percentages, and much more… using artificial intelligence!
| | | | |
| --- | --- | --- | --- |
|   | | |   |
This is not only a valuable tool for players, but a useful resource for coaches from a practice and conditioning standpoint. Yet as it relates to in-game planning, are there factors of STEM that play a role for coaches and players alike to effectively strategize?
Strategic Approach
The history of the game has no shortage of plays from an offensive, defensive, transitional, and sideline/inbound perspective. Plays comprised of angles, motion, and spatial awareness, some more comprehensive than others. In other words, the ability to engineer and execute a plan to induce continuity between all five players is vital to success; the Triangle Offense provides a good scope and sequence from both an engineering and mathematical lens. 
Created many years ago by former USC (University of Southern California) Coach Sam Barry, the triangle offense has been utilized by several teams at the collegiate level, most notably the immensely successful women's teams at the University of Tennessee and the University of Connecticut. However, it really took shape when Tex Winters, former coach at Kansas State University, developed it extensively. Winter's notoriety and positive results came from his time as Assistant NBA Coach/Special Assistant with the Chicago Bulls and Los Angeles Lakers. During his tenure, these teams won a total of nine championships with the triangle offense at the forefront.
To simplify, the success of the triangle offense involves the below, comprised of engineering and geometrical factors:
Patience: the ability to construct the triangle, which includes topside and rotational players, and is essential to establish proper spacing; subsequent to "read and react" based on the configuration of the defense.

Spacing: a team's ability to space the floor is essential. Particularly, within the triangle offense where there is limited space within the half court set — requiring players on the triangle-side to set and obtain 15 to 18 feet of spacing to initiate and execute the offense; thus, requiring the defense to defend within a greater space.

Ball Movement and

Motion

: a rule of thumb that should be a constant within each offensive system; the velocity of the ball will always exceed the velocity of players. Unfortunately, this is seen less and less with the athleticism/potential of today's players. Meaning, 1-on-1/off-the-dribble play has become the norm; not ball and player movement and/or utilizing all 5 players as a cohesive unit.
Good or bad, the athletic ability of players has increased significantly, producing a more individualized, faster paced game. With that being said, this style of play, or strategic approach, has decreased team play and/or the need to implement a game plan central to engineering/mathematical principles.
Conclusion
The game has significantly changed over its 125-year history. A game with science, technology, engineering, and mathematical components. Yet a game that has transformed by prescribing to a more rapid, 1-on-1 style of play. What will the next 125 years look like?